This is an overview of our development process – how we go from finding a potential solar site to building and managing the solar array.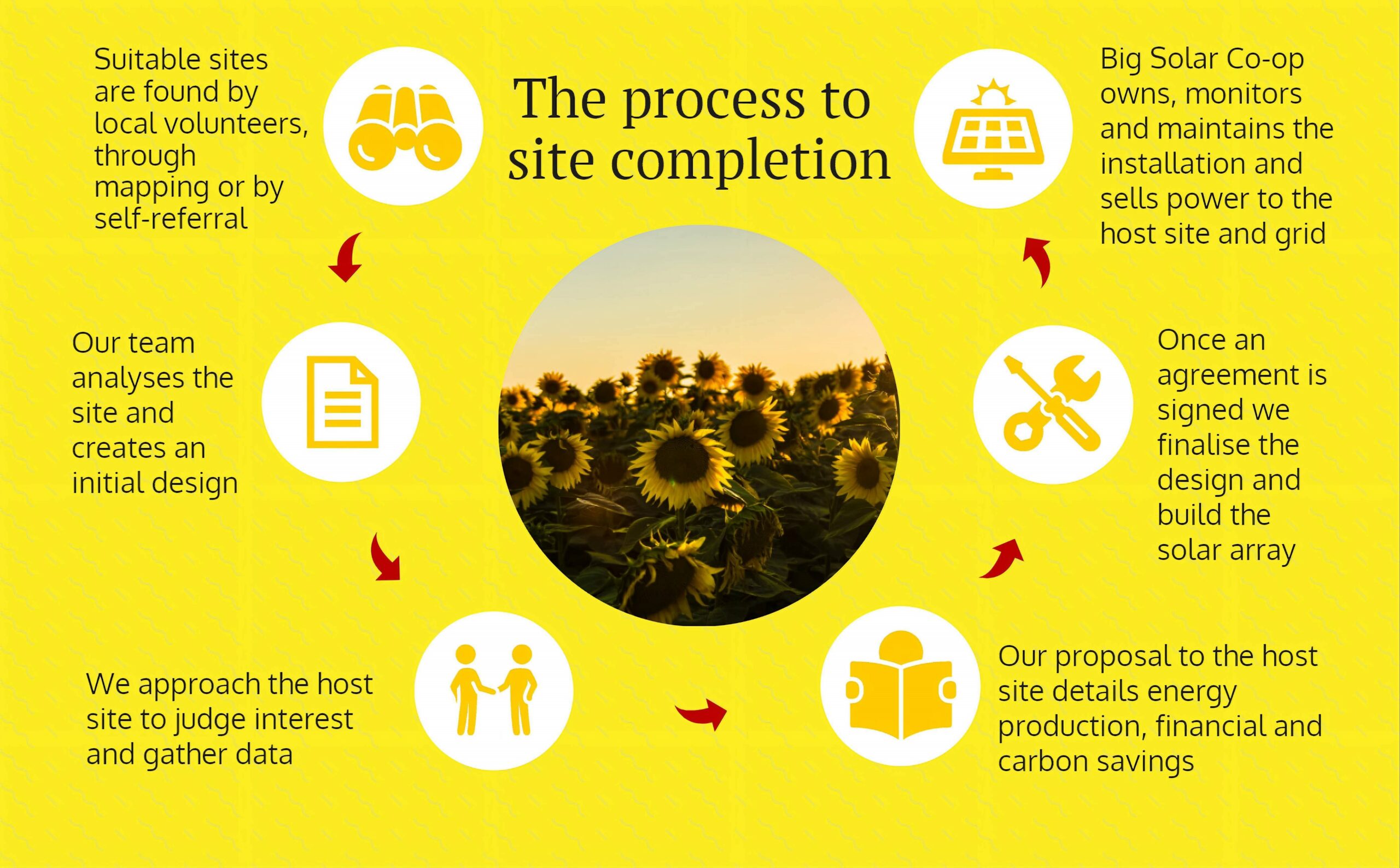 Site finding
Potential solar sites are identified by a wide range of methods:
Solar potential mapping – we and other bodies study areas to find theoretically good solar sites based on the size of buildings, type of roofs, grid connections etc
Self-referral – building owners and energy users can contact us asking whether their site is suitable
Local volunteers – our network of solar activists is busy looking at their local area, proposing and analysing sites
Indicative design
We use our own in house tools and expertise to quickly analyse a potential site and carry out an outline design in OpenSolar. This work is largely carried out by remote-working volunteers who are trained in the use of this online software and supported by both experienced volunteers and paid staff. We put the analysis together into an indicative design for host sites.
Approach to site owners
Once we have an indicative design we approach the site owner to explain what we think is possible on their site, and to see whether they are potentially interested in taking the project forward with us. We will be able to give an idea of how much energy the panels will generate for the host site. At this stage there is absolutely no commitment  – we just ask the site owner to confirm that they are interested in principle. With their help we can refine our indicative design and incorporate data about their energy use.
Outline proposal
With more information gathered we put together a detailed outline proposal for the site owner which covers:
Financial and carbon analysis including savings for site owners
Improved design of solar installation
Details of legal agreements
An outline timescale
If the host site owner wishes to continue, they sign the binding agreement and we move forward to the design and installation phase. If they decide not to, they can keep the analysis we have done to date free of charge and we remain open to working with them in future.
Design and installation
A final detailed design is prepared by our in-house specialist – Chris Rigby and he will work alongside our local volunteers to put in place a schedule of works. The solar array is financed and will be owned by the Big Solar Co-op, which will obtain any grid connection agreements, planning agreements (where required). We would expect to be able to install within 6 months of receiving a binding agreement except in cases where planning permission or grid connections are more complex, or where site owners have specific requirements for installation date.
Operation and maintenance
The solar array will be operated by the Big Solar Co-op which deals with all service and maintenance, cleaning, monitoring and optimisation. The site owner (or other connected energy user) will be billed for all the solar energy they use. The remaining energy is exported to the grid. Big Solar Co-op manages the export of energy and all regulatory issues with Ofgem and other relevant bodies. The site owner will have a named contact within Big Solar Co-op to deal with any site issues – and we will schedule reviews to see if we can improve the installation or add improvements such as energy storage, vehicle charging etc.