I started as a Big Solar Co-op Local Coordinator for Stroud in June 2022, working in collaboration with Transition Stroud; co-funded by Stroud District Council, 4 local town and parish councils and the Big Solar Co-op. That year was a steep learning curve for me. It was the first time I'd worked in community energy and although I had plenty of transferable skills from teaching, there was also a lot that was new.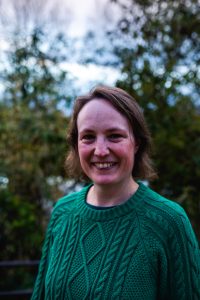 Luckily I have a very supportive team to work with both locally and nationally, who are equally determined to get solar onto as many rooftops as possible. One of the first things I did was to post an ad' for volunteers on GoVolunteerGlos. Rob Jones responded almost immediately and has been a great asset to the team; in fact, he is now a board member on our newly elected Board of Directors. Ed Beasley soon joined too and has already managed to bring in several very promising sites, including two schools and a coffee roasters.

The first few months were spent networking with existing local contacts who knew building owners e.g. district and county councillors, members of GFirstLEP, property developers, B Corp consultants and others involved in sustainability in a more general sense. We also attended lots of events and gave presentations throughout the year to local groups to raise the profile of the Big Solar Co-op. Events attended included the Gloucestershire Net Zero Conference, Gloucestershire Business Show and Eco-Future Fest. The result of those conversations was a shortlist of promising sites to work on.

However, then came the energy crisis. I was suddenly inundated with calls and emails from building owners with very small and / or shaded rooftops, or with very low energy usage, asking me if we could help. It was hard to explain why we had to turn some of these sites down especially when several were suddenly paying as much as £0.65 or £0.70 per kWh!

In total over the course of the year the Stroud team (including Rob, Ed and Nathan Cole) engaged with 75 sites, many of which are plotted on the map below. This work included sending initial PV array designs and Commercial Proposals to all the viable sites that were interested in the Big Solar Co-op offer. Of those sites over 50% have signed an exclusivity agreement with us and several have entered into the legal agreement process. We hope to be installing on our first site in Gloucestershire in the Spring of 2024, with many more to come!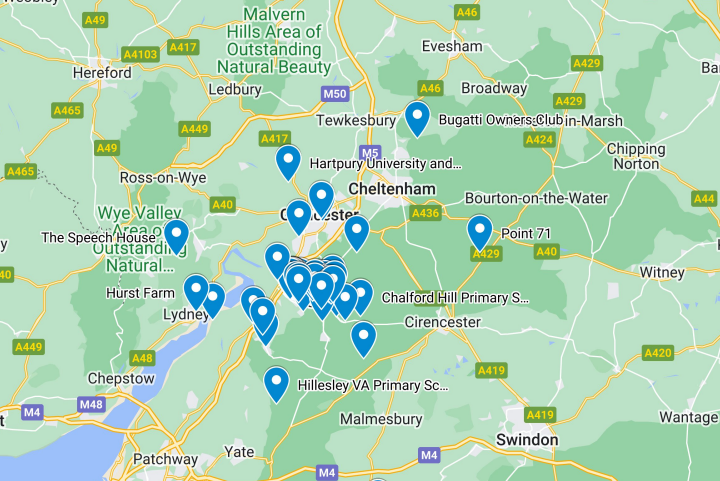 Moving into my second year here, my remit has broadened and I now work all over Gloucestershire. This involves looking countywide for sites, as well as working on events planning, volunteer outreach in the Forest of Dean as part of the EU's Horizon 2020 – AURORA project and aiming to increase diversity among our Volunteer Member cohort. I also convene two Volunteer Member working groups at the national level and help to promote our rolling share offer.
The four AURORA locations in continental Europe are centred around universities, as hubs for social innovation. The fifth is in the Forest of Dean, where the local authority declared a state of 'Climate Emergency' in December 2018. Community Energy Project Officer at Forest of Dean District Council, Emma-Jayne Williams said:
"We are delighted to be working with the Big Solar Co-op, we love the clear approach and business model as it's a win-win for all involved. Community solar helps the climate while also helping building owners and occupiers to reduce their carbon emissions and their energy bills. It's great for the community too in terms of supporting community facilities such as leisure centres and schools and enables individuals to invest with ethics and the environment in mind. Their knowledge and expertise really impressed us".
I can't wait to get really stuck into working with the Forest Community Energy (FCE) group in the Forest of Dean on their list of potential hosts for solar through the Big Solar Co-op, while continuing to progress the work done in the Stroud area. If you would like to get involved with my work in the Gloucestershire area or find out more about funding or volunteering to support the work of the Big Solar Co-op, please get in touch.