Food
We will be serving a nut-free vegetarian buffet with vegan options, tea and coffee and water throughout the day. Please let us know if you have any dietary requirements that we should know about.
Accessibility
The whole venue is on the ground floor with several different areas, all wheelchair accessible.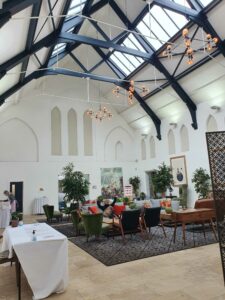 Transport
The Fazeley studio is located in Digbeth, which a ten-minute walk from the Bullring in Birmingham. That's 13 minutes to New Street and nine minutes to Moor Street Station. It's also five minutes from Birmingham Coach Station.
Please car share or use public transport if you can – there are some car parks nearby but spaces cannot be guaranteed. For cyclists, bike parking can be found in the centre of the Custard Factory.
Cancellations and no-shows
We realise that these are turbulent times and some of our attendees may need to cancel at short notice. It is much better that you do this and we can keep your tasty lunch out of landfill and possibly pass your ticket on to someone else rather than just not turn up on the day. Just drop us an email and let us know that your plans have had to change: info@bigsolar.coop
Covid 19
The venue has plenty of space but we will not be able to socially distance so there is still a potential risk of Covid-19 transmission. We can reduce this possibility by:
Not attending if feeling unwell or have been asked to isolate (pinged).
Using the hand sanitiser in the foyer when entering the gathering
Scanning the NHS test and trace QR code – it will be on the check in desk.
Taking a lateral flow test on the day before or the day of the gathering (Sharenergy staff will take one and only attend if the result is negative). They can be ordered for free here: https://www.gov.uk/order-coronavirus-rapid-lateral-flow-tests
Filming
Our friendly film-maker Aaron Childs, of Painted Life, will be wandering around throughout the day taking photographs, filming presentations and some short interviews and vox-pops. If you would prefer not to be included, just let us know and please avoid cameras on the day.